From the Archives
1964-65 Future Farmers of America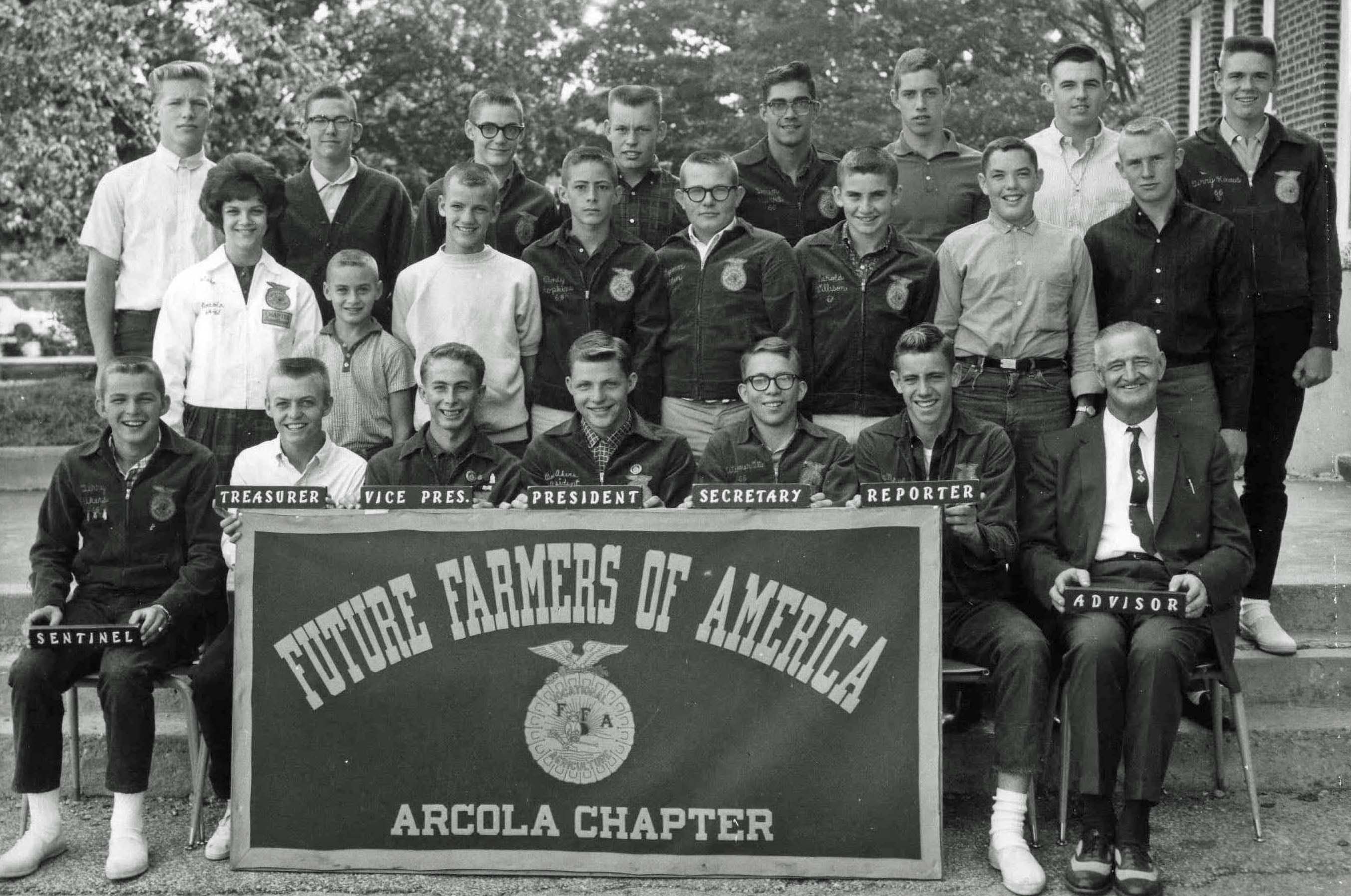 Photo courtesy of Jerry McCoy
Seated, L-R: Terry Akers, Roger Bright, Larry Hopkins, Bob Akers, Wilmer Otto, Ken Newby, Nelson Roberts, Advisor
Row 2, L-R: Linda Lawrence (FFA Sweetheart), Max Willison, Tom Hunt, Andy Hopkins, Lynn Albin, Harold Willison, Ken Byers, Gary Knaus
Row 3, L-R: Bill Blackwell, Dennis Thompson, Carter Strader, Jim Cunningham, Loren Navel, Dennis Simpson, Steve Bunten, Terry Knaus
Alumni Cheerleaders
As part of the 2013 Homecoming weekend, alumni cheerleaders were invited to join the current cheerleaders in leading the singing of the school song at the football game on Saturday, October 5, 2013. Pictured below are past and present Purple Rider cheerleaders.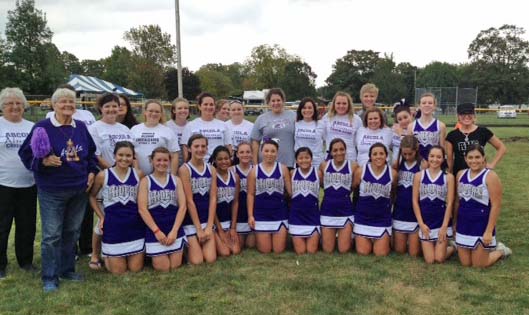 Kneeling, L-R: Markie Gentry, Maci Miller, Claire Miller, Amaya Abernathy, Ashley Oyler, Andrea Cavazos, Maria Climaco, Kaytlene Gutierrez, Sydney Spelman, Morgan Hobgood, Lezlie Arguelles, Katrina Gauna
Row 2, L-R: Myra Coy, Angie Gentry, UNKNOWN, Jadie McLane Duggins, UNKNOWN, Gianna Catanzaro, Monica Edrington, Hannah Montgomery, Natalie Gauna, Karla Arguelles, Danica Norton (AHS Cheer coach)
Row 3, L-R: L-R: UNKNOWN, UNKNOWN, Sherri Melton. UKNOWN, Nancie (King) Mertz
If you can identify any of the alumni cheerleaders, please contact the webmaster.
1917 Arcola Football Team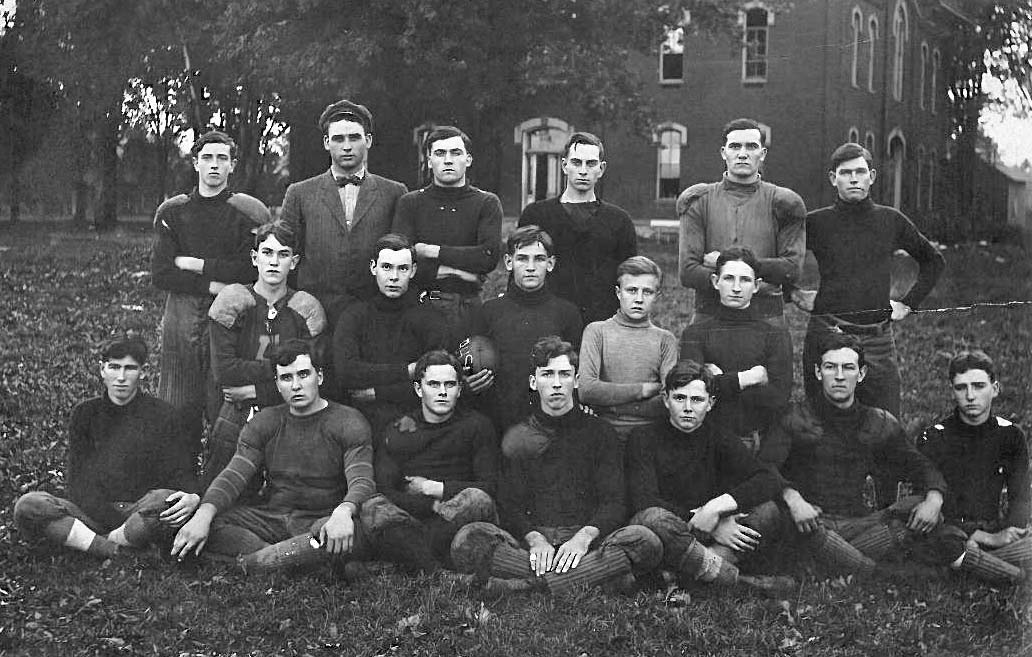 From information supplied by Randy Rothrock, the members of the 1917 AHS Football team were Lloyd Forner (Junior), George Logan (Senior), Will Harrington, Jim Harrington, Morris Harrington, Horace Munson, Art Bartholomew (Senior), Paul Krows (Junior), Frank McCann (Senior), Ed Finfgeld (Sophomore), Dan Mayo (Sophomore), ? Jones, ? Miller, ? Murphy, ? Gee, ? Dare, ? Dilliner, ? Roberts, ? Van Voorhis, ? Sylvester.
The season record in 1917 was 6 wins, 3 losses:

Arcola 28 Paxton 7
Arcola 34 Arthur 6
Arcola 7 Georgetown 13
Arcola 26 Oakland 0
Arcola 46 Monticello 7
Arcola 56 Paris 7
Arcola 15 Villa Grove 27
Arcola 0 Champaign 61
Arcola 26 Tuscola 7
Any help identifying the individuals in the photo will be greatly appreciated. The postcard photograph is provided by Rosie Boyd and Annie & Pat Monahan.
1930 Football Team
Nancy (Herrington) Mathias has provided us with this photo of the 1930 Arcola High School Football team. The picture was taken to the left (south) of the east entrance. Martha (Pullen) Herrington, Dr. Robert Arrol, Bob Coombe, Sr. & Randy Rothrock collectively identified the people.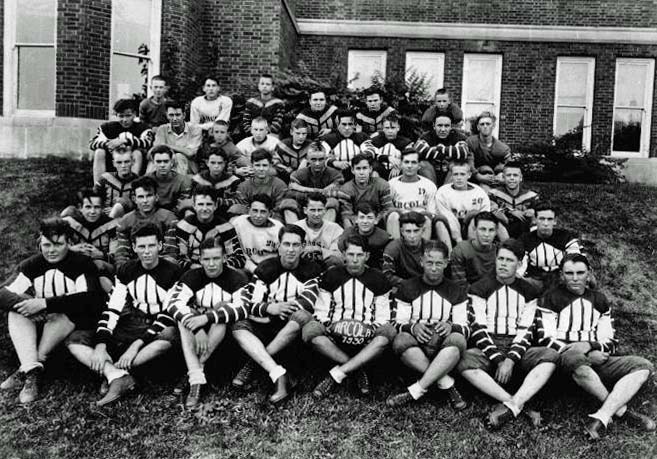 First Row, L-R: Clarence ("Blimp") Miller, James Daugherty, Floyd Stump, Berkley ("Turkey") Ray, Willard Ginder (Captain, holding football), Ed Speelman, James Bilbrey, Bill Herrington
Second Row, L-R: Vernon Pullen, Phillip Wells, Lowell Thompson, Cecil Edgar (father of Gov. Jim Edgar), Robert Gamble, Lawrence Cox, Harry Lamb, Robert Ginder, Morris Edgar
Third Row, L-R: Ed Bryant, Kenneth Garver, Roger Rogers, Bill Biggs, Danny Mayo, James Rollings, Kenneth Harsbarger, Joe Bilbrey, William Poynter
Fourth Row, L-R: Orville Hubbart, Coach Harold Johnson, "Jelly" Jiles, John McLane, Bob Coombe, Sr., Harvey Pullen, Fred Shrader, James Weddle, Ed Poynter
Fifth Row, L-R: Emerson Gamble, John Gleason, Carl Henby, Leonard Duncan, Glenn Porter, James Edgar
1947 Homecoming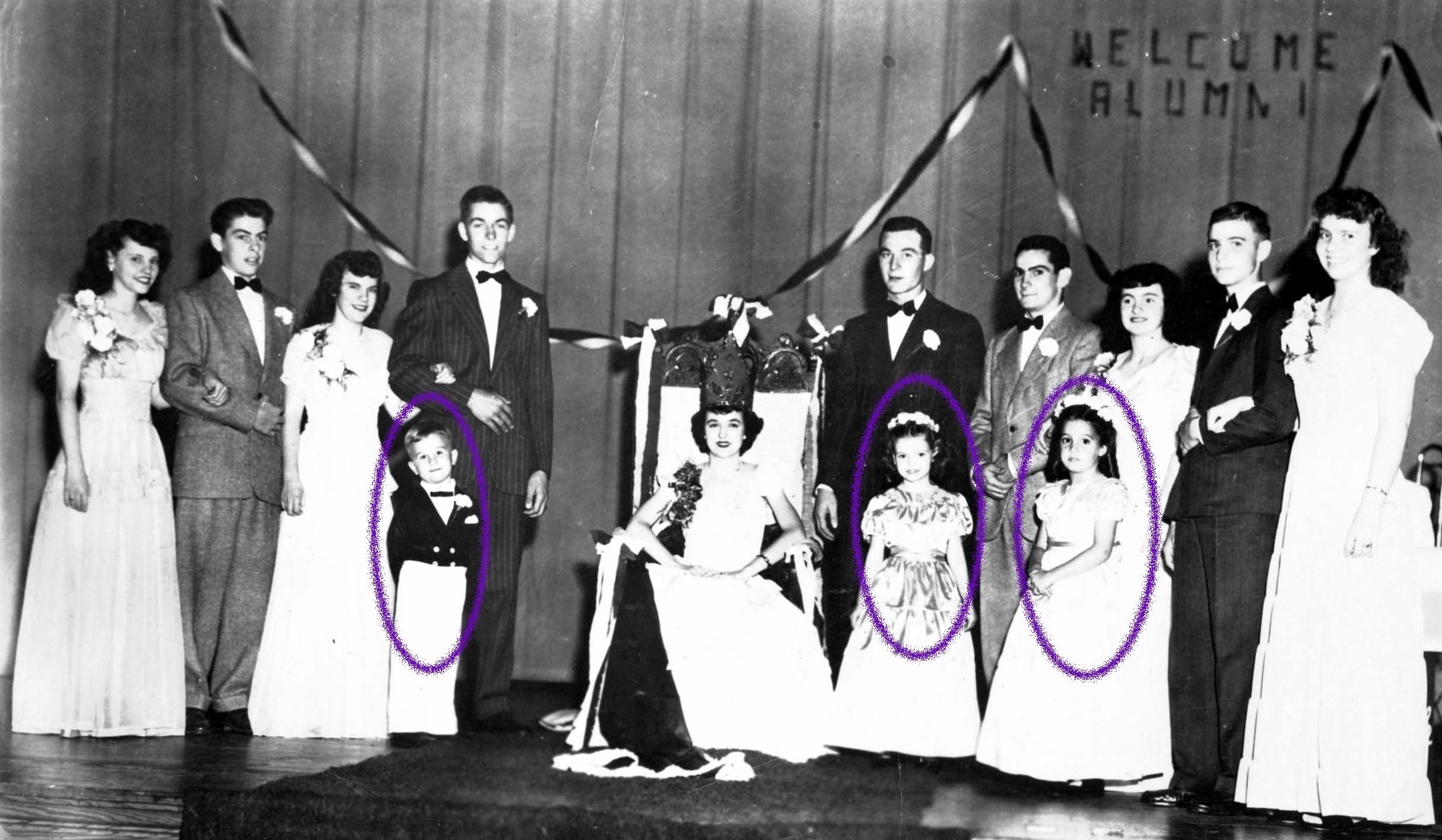 Seated: Queen Katherine Black
Standing, Left to Right: Harriet Stutes, Jim Patridge, Ann Riemer, Joe Patridge, Dale Clark, Carol Pullen, Rosemary Jacobs, Francis Vogel, Norma Baker
To the left of the queen - Dan Ghere (AHS Class of 1962); to the right of the queen - Linda Stump and Lianne Allen (both from the AHS Class of 1960)
Varsity Cheerleaders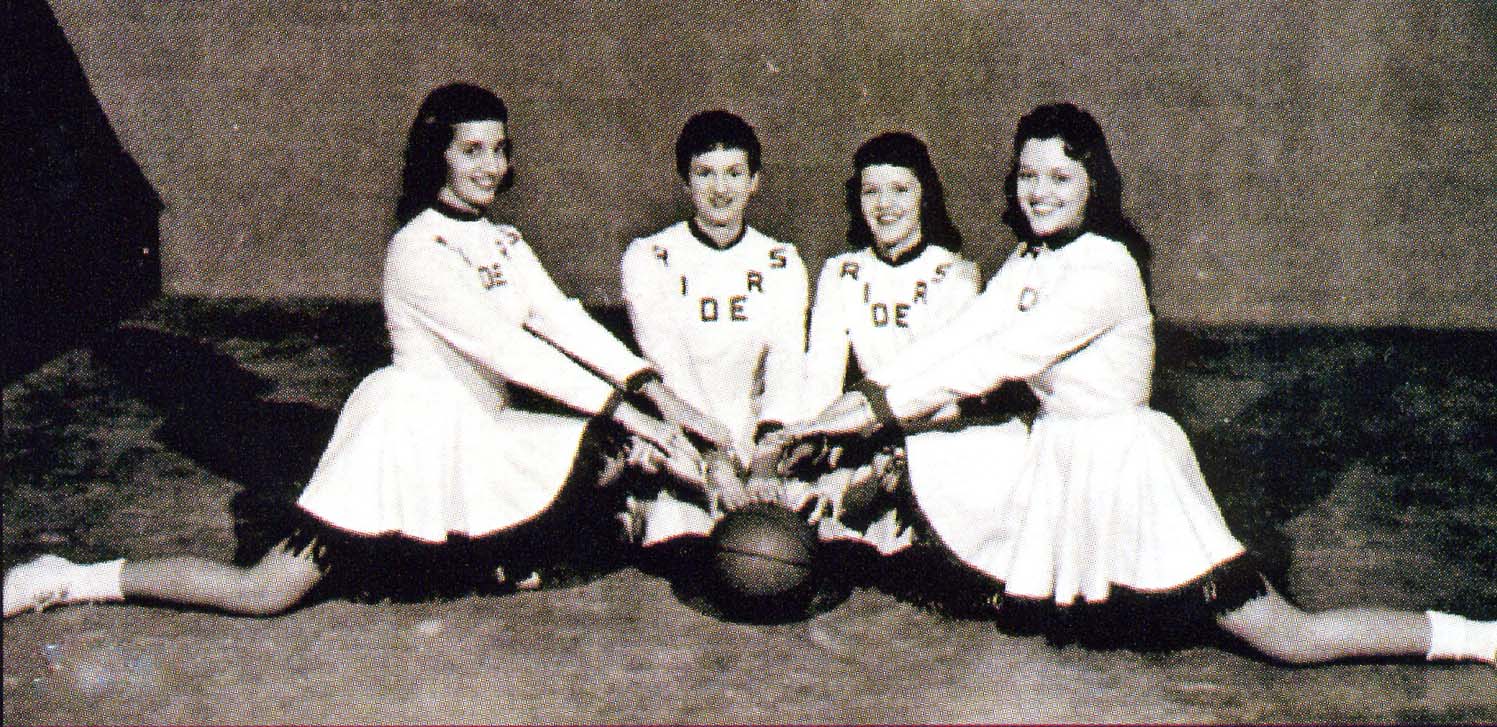 1957-58
Left to Right: Lianne Allen, Connie Johns, Nancy Biggs, Bobbie Sue Biggs

1950 Homecoming Court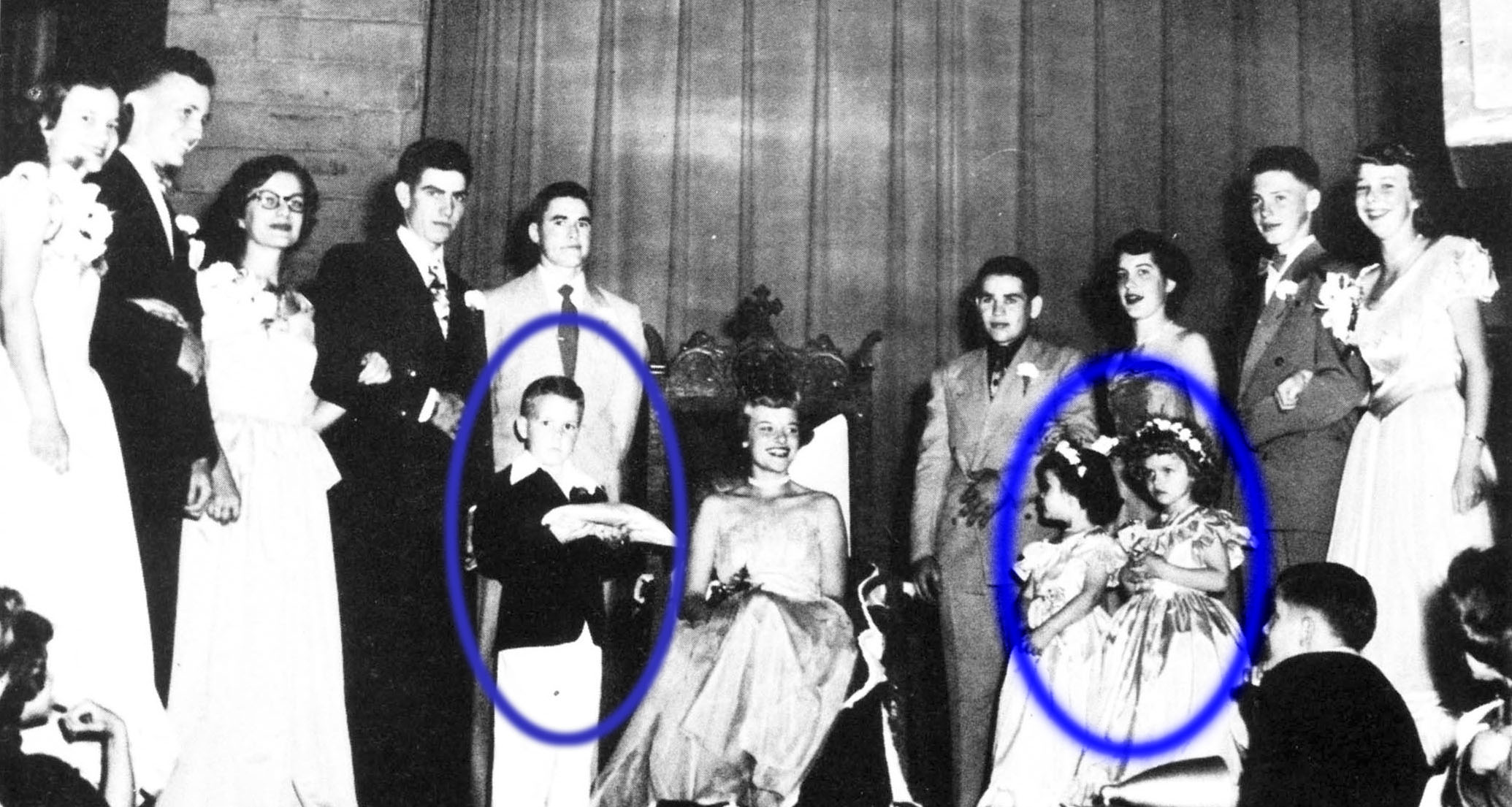 Seated: Queen Barbara Van Gundy
Back Row, Left to Right: Rosella Huddleston, Bert Finn, Martha Bright, Charles Cutsinger, Don Howrey, Adlai Schrock, Eleanor Young, Tom Hudson, Kay Barricklow
Front Row, Left to Right: Larry Rollings, crownbearer; Donna Jo Beavers and Barbara Clark, trainbearers