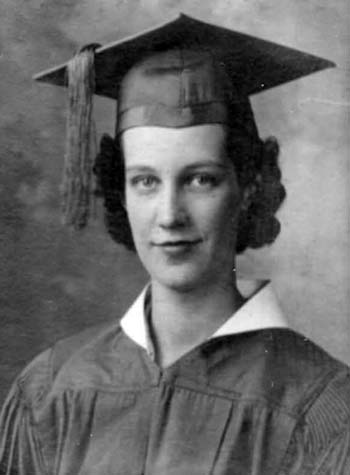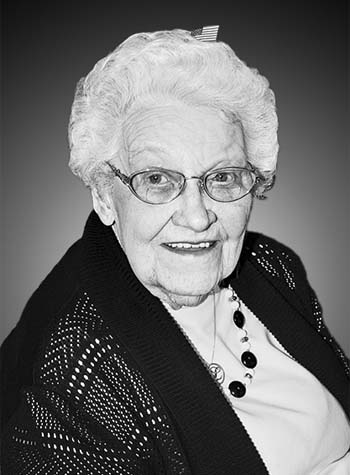 LaVonne Smith questions if she is due any special recognition because she attended AHS just one year – her senior year. As an 80-year alumna, who is believed to be the only surviving graduate of the Arcola High School Class of 1935, Arcola Alumni Association proudly honors LaVonne Smith. At age 97, she still has her sharp mind and also maintains a full measure of spunk that has carried her well into her tenth decade.
Evelyn LaVonne Smith was born October 8, 1917, on a farm east of Arcola. She was the second of three daughters of Adam and Kate Mattingly Smith. Her older sister, Wanda "Jo" Smith Schultz, was born in 1915 and her younger sister, Wilma "Poog" Smith Daugherty, was born in 1924. Wilma graduated with the Arcola High School Class of 1941.
Adam Smith worked on farms in the Arcola and Tuscola area. LaVonne started first grade at the Galton School, while living two miles west of Galton. She later enrolled at Wesley School on the Bourbon Road when she and her family lived two miles west of Route 45, on the Bourbon Road. Following her family's move to a farm southwest of Tuscola, LaVonne attended Tuscola High School her freshman, sophomore and junior years. One school year, like many high school girls of that time, LaVonne stayed with a family in Tuscola. She was able to attend school each week day, work in their home when she was not at school, and then return to her own home and family on the weekends. At Tuscola High School, LaVonne was active in Glee Club and Girls Athletic Association.
In 1934, The Smith family moved to a farm north of Arcola. The farm home still stands at 410 North County Road 890 East, just south of Fari Shafer's home. It was Arcola's good fortune to have LaVonne at Arcola High School, even for just one year. She developed close Arcola ties that continue today, 80 years after her graduation. LaVonne did not participate in many school activities during her time at AHS. She noted she attended high school during very hard financial times, in the years of The Great Depression. LaVonne's father drove her to school each day. She reports Bookkeeping and Typing were her favorite classes at AHS. It could be coincidental that LaVonne's business teacher, Mr. Rosan, was "real good looking". She also volunteered that she had "quite a crush on him". Ruby Pearson and Eunice Case, older sister of Arcola's Thelma Case Clark (Class of 1940), were LaVonne's special friends at Arcola High School. When asked if she was able to attend football or basketball games, she remembered going to very few games, and reiterated the hardships that many experienced during the time she attended school.
The Arcola High School Class of 1935 graduated in the auditorium at 8:00 p.m. on the evening of Wednesday, May 29th. LaVonne was one of 38 graduates. Other familiar Arcola graduates included John Clark, Harold Ghere, Allan Gray (Salutatorian), Mildred Knaus Key, John Lloyd, Joseph Lozier, Garnette Mannon Clark, Frank McLane, Earl Miller, Luella Pullen Rippey and Phyllis Welch Bennett.
Following high school, LaVonne was employed in the telephone company's Arcola office as a switchboard operator. Phyllis Bergfield's September 11, 2008 article in the Arcola Record-Herald reported the office was located at the current site of Petty's Law office on Main Street. LaVonne was able to use the business skills she acquired in Mr. Rosan's classes when she worked in the Douglas County Clerk's office at Tuscola in 1942-1943. As World War II progressed, she moved to Decatur and found employment at the Sangamon Ordinance Plant in Illiopolis.
LaVonne moved back to Arcola and its familiar surroundings following the war. She found work in the Soil Conservation Office in Champaign and then in the Unemployment Compensation Office in Mattoon.
One evening, LaVonne and a friend decided to attend a dance at Arcola's East Side Grade School. She borrowed her father's car and the two arrived at the dance. As fate would have it, LaVonne locked her keys in the car. She decided to go into the school building, where she would ask the first person she knew for a ride back to her home to get her father's extra set of car keys. Harry Smith was the first familiar person LaVonne met at the dance. Harry was about 2 ½ years younger than LaVonne, and had graduated three years later, with the AHS Class of 1938. She clarified that she knew Harry Smith, but did not know him well. LaVonne explained her predicament to Harry, and the two spent the rest of the evening together at the dance. She now says, "I guess the locked key in the car worked".
Harry Smith had played football at Arcola High School with Arcola's legendary teams of the 1930s. He then served in the Army Air Force in the Pacific Theatre from 1942-1945. Upon his return to Arcola in 1946, Harry and his brother, Bill, opened Smith Brothers Trucking and their Route 45 gas station.
Following their chance meeting at the dance, Harry and LaVonne continued to date and then planned to be married in November 1947. LaVonne stated the Methodist minister was on vacation, so she and Harry drove to Effingham the morning of Monday, November 17, 1947. LaVonne Smith and Harry Smith located a Presbyterian minister, who married the couple in his home. That same day, LaVonne returned to her work at the Unemployment Compensation Office in Mattoon and Harry returned to his job in Arcola.
The Smiths purchased their first home at 516 East Washington St., paying $30.00 monthly installments. While that amount seems unbelievably small today, LaVonne noted the $30.00 payments required some sacrifices in the early years.
LaVonne and Harry's daughter, Barbara, was born in 1948. LaVonne was able to stay home with Barb and did not return to work until 1954, the same year Barb started grade school. She again secured a position in the Douglas County Clerk's office, at a time when the county was just beginning the registration of voters. Burley S. Burgett, county clerk at that time, was the first registered voter and LaVonne has the distinction of being Douglas County's second registered voter. She continued her work in the same office for 25+ years until her retirement in 1980. She then worked part time following her retirement and was also appointed to the Douglas County Board of Review.
The Smiths left their home on East Washington Street and moved to their stately new home on West Jefferson Street in 1965. Their daughter, Barb, was an active class member and graduated with the Arcola High School Class of 1966. During her working years in the county clerk's office, LaVonne was also Arcola's "First Lady" when her husband, Harry, served as Arcola's mayor from 1965-1977.
Harry and LaVonne were married nearly 47 years at the time of his death on August 28, 1994. LaVonne is quick to add that Harry never let her forget she was older than him.
LaVonne readily credits her daughter, Barb Hein, and her son-in-law, Dick Hein, for their untiring work, which allows her to remain in her own home, the home she and Harry built 50 years ago. Barb comes to Arcola from her home in Arthur each day to tend to her mother's needs.
LaVonne can be found in "her pew" at the back of the Arcola United Methodist Church sanctuary nearly every Sunday morning, with Barb at her side. And you can be certain LaVonne will have a small American flag in her hair, a patriotic symbol she has worn every day since the war in Iraq began.
Arcola Alumni Association honors 1935 graduate LaVonne Smith.