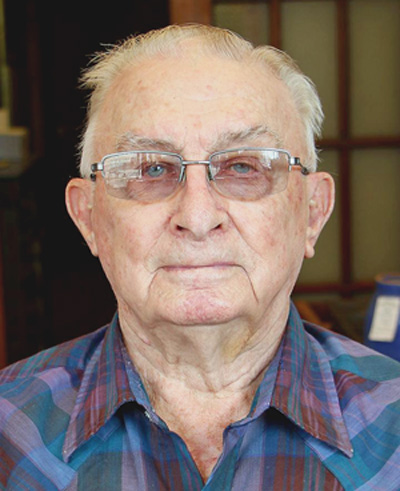 We honor Joe Hopkins, who graduated with the Class of 1941. As a child, Joe sang for Western and singing stars Gene Autry and Smiley Burnett. As a young man, Hopkins was drafted and cleared for military service in World War II, but mysteriously never received his call to report for duty. The Hopkins family can now boast four generations of Arcola High School graduates in each of eight decades from 1941 to 2013, with more family members to graduate AHS in the next decade.
Joseph William Hopkins, the first child of James A. and Phebe M. Robinson Hopkins, was born at home three miles northwest of Charleston on September 2, 1923. His parents were farmers who also worked in a Charleston shoe factory. The Hopkins family moved into Charleston when Joe was six months old, and then at the age of 7, Joe and his family moved to Dunn Station in rural Moultrie County, between Sullivan and Bethany. Joe began piano lessons when he was about 10, and continued his piano studies for a couple of years. Also at age 10, Joe's musical abilities took him to Tuscola's WDZ radio station, where he sang in a talent show contest. Little did Joe know he would rub elbows with upcoming Western and singing stars Gene Autry and Smiley Burnett in the talent competitions. Autry played guitar to accompany Joe when he first sang, and Burnett played guitar as Joe sang in the next round of competition. Autry had come from Chicago to audition Burnett in Tuscola. Burnett then left WDZ to work with Autry on Chicago's WLS radio before their movie and television fame.
When Joe was about age 12, his father received a guitar from a blacksmith, who had created the instrument with a steel rod in the neck. Although he had never taken lessons, Joe had learned to play the guitar by watching his cousin.
The James and Phebe Hopkins family grew quickly in 1935 following the December 1934 death of Joe's Uncle Clifford Hopkins, who was the surviving parent of 2 young girls, ages 8 and 5. Glenna Mae and Bonnie Hopkins then came to live with James, Phebe, Joe and his Grandmother Hopkins in the spring of 1935. The family was now living 3 miles east of Sullivan. The young girls were then adopted into the family in 1939.
Hopkins attended Dunn rural school in Moultrie County before his family moved to Ridge Farm, where he was first able to ride a bus to school in 7th grade. While at Ridge Farm, the family grew again with the birth of Joe's brother Gale. Joe completed his first three semesters of high school at Ridge Farm. Joe was a second semester sophomore when his family moved from Ridge Farm to a farm southwest of Arcola. He drove his parents' car or truck each day to high school in Arcola. Joe had been involved in Future Farmers of America, wrestling and boxing while at Ridge Farm. He continued FFA and was also a part of the newspaper staff, minstrel show and was the courtroom bailiff in his senior class play at Arcola High School. Joe played high school basketball and remembers there was a shortage of uniforms, requiring him to surrender his uniform to a varsity player after each JV game.
Agriculture and Chemistry were Joe's favorite classes at AHS. Mr. William Waxler, who taught Chemistry and Physics, was his favorite teacher. Joe and other members of the FFA enjoyed field trips to Springfield. He remembers ping pong tables were set up in the hallway near the south school entrance and he became the school ping pong champion. George Wilkerson and Dick Jolly were Joe's good friends in high school. When he was not working on the farm, Joe and his friends played basketball, softball and enjoyed their time at the Davis Sweet Shop.
While still in high school, Joe played guitar in a band, which included friends and neighbors Bill Swisher, Jim Morris and Ira Ellis. They played for dances at the East Side School three or four times a year, and Joe's musical talents once again took him to WDZ Radio in Tuscola, where the young band members played for a radio show.
The Arcola Township High School Class of 1941 graduated 46 students on Thursday, May 29th. Joe's class included many whose names are still familiar with local readers, including three couples who later married. Joe married his classmate Sarah Johnson, Bob Ghere married Ruth Grant and Neil Whipple married Wanda Rayburn. Other classmates included Don Black, Gerald Bright, Helen Bryant Seitz, Millard Fortney, Harry Ghere, Alberta Hilgenberg Brehm, Albert Kearns, Margie Seaman Riley, Phyllis Smith, Margaret Sylvester Biggs, Bob Van Cleave and George Wilkerson.
The May 29, 1941 Record-Herald reported graduate Joe Hopkins hoped to "drive a truck" in his future. Following high school, Joe was able to do some trucking as he hauled lumber from Arkansas and grain to Mississippi and Tennessee. He worked with his father as they continued to farm their family's ground, as well as the Harry Edgar farm near Humboldt. Joe also raised Angus Cattle and Berkshire hogs on the farm. The sale of his livestock allowed Joe to buy a 1936 Plymouth coupe. Our country was at war within a few months of Joe's high school graduation and he has memories of both sugar and tire rationing. He went before the rationing board to buy tires for the farm, and was also able to purchase used tires for his second car, a 1938 Ford he had purchased with no tires.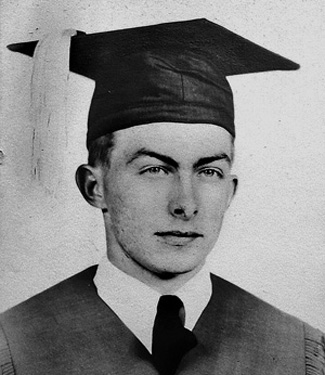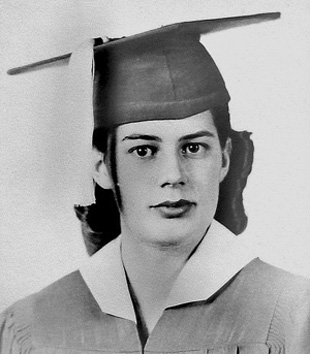 While Joe had known Sarah Johnson in high school, she and Joe did not date until shortly after their graduation. He remembers he and Sarah drove to Mattoon to see a movie on their first date. As the daughter of veterinarian Frank E. "Doc" Johnson, Sarah had often accompanied her father on his farm calls. She worked with livestock and had shown her sheep and hogs in competitions at county fairs since the age of 10.
Joe and Sarah were married in the Charleston home of her grandparents, Mr. and Mrs. Hugh Johnson, on Saturday evening, January 6, 1945. The young couple first lived in a farm home three miles southwest of Arcola in northern Coles County. Joe grins when he recalls Sarah had an impressive background in livestock, but lacked any cooking skills. She knew how to boil water and make toasted cheese sandwiches when they were first married. Fortunately, Joe's mother had taught him how to cook. He and his mother then helped Sarah as she also learned to cook.
Joe was drafted for military service in March 1945. He had been previously called, but was given an additional three months at home on the farm while his father recovered from an illness. Knowing he was headed off to the army, Joe sold his combine. He passed his physical exam, was sworn into the army and waited for his next orders. Joe's official papers, along with the forms of 40 other Coles and Effingham County draftees, were mailed directly to Springfield. He waited months for his notice to report for service, but the war ended and the young draftee was never summoned to report for duty. Then in 1962, Everett Seaman, Jr., who had been sworn in at the same time, notified Joe that the official military paperwork of the 41 local draftees had been found in a Springfield office after the mailing had fallen behind a cabinet in 1945.
The young couple continued to farm and work with their livestock after the war. Joe was seriously injured in a farm accident in 1946. After his foot was caught in his combine, Joe crawled 1/8 mile to seek help. Although he had attended the Baptist church with his family, Joe remembers he prayed for his life and promised to join Sarah's church if he survived. He lost four toes in the accident, but kept his promise and then joined First Christian Church of Arcola with Sarah. Joe recovered from his injuries after months of hard work and determination, and their first son, Larry, was born the following year in 1947.
In 1947 and 1948, Joe and his father remodeled and built new homes for military veterans in Arcola. Joe's most notable construction project began with the 1948 purchase of their farm, located southwest of Arcola in northern Coles County, near the Kaskaskia River. He, Sarah and Larry moved into the former Humboldt railroad depot building, which had previously been moved to its new farm location. Joe continued to expand and remodel their "depot" home for many years to accommodate their growing family. Their second son, Andy, was born in 1950 and then Daryl in 1953. Joe and Sarah's only daughter, Carol, completed the family in 1959.
Joe and Sarah's interest in their sheep, hogs, cattle and horses continued for many decades, a tradition passed on to their children, grandchildren and great-grandchildren. The family showed their livestock in competitions at the Coles County Fair for 67 consecutive years. Joe was Sheep Superintendent at the Coles County Fair for 13 years. Joe and Sarah joined the Coles County Roundup riding club in 1945 and attended their monthly meetings and potlucks in the Loxa area for 47 years.
Joe completed a 10-year stint at Helmuth Implement Company in Arcola in 1979, and then retired from farming in 1985. He and Sarah shared more than 54 years together before her passing on May 19, 1999. The 1941 AHS classmates have 4 children, 8 grandchildren, 5 great-grandchildren and 2 great-great grandchildren.
Most are Arcola High School graduates: Their children, Larry Hopkins (1965), Andy Hopkins (1968), Daryl Hopkins (1971) and Carol Hopkins Hackler (1977); grandchildren Daron Hopkins (1985), Chad Hopkins (1989), Ryan Hopkins (1994), Michelle Hopkins (1989), Courtney Hackler (2000), Kellie Hackler (2003) and Joey Hackler (2010); and greatgrandchildren Chelsea Langley (2009) and Dakota Hopkins (2013). Greatgrandchildren Ella Hopkins, Eva Hopkins and Austin Hopkins are currently students in Arcola schools.
Joe's siblings are also Arcola High School graduates: Glenna Mae Hopkins McLane (1943), Bonnie Hopkins Sisk (1947) and Gale Hopkins (1955).
Arcola Alumni Association salutes 1941 graduate Joe Hopkins, who continues to live in the home he created 70 years ago. He has attended countless AHS sporting events over the past six decades as he watched his children, grandchildren and great-grandchildren compete. At nearly 95, Hopkins is very alert, active and still mows his own lawn. He is a member of The First Christian Church of Arcola, likes to watch television and greatly enjoys time with his family.
Story of Joe Hopkins and the Smiley Burnette mandolin.
Arcola Alumni Association would like to recognize other AHS graduates who have reached the age of 90 or beyond. If readers are AHS graduate age 90 or older, or if you know one of Arcola's oldest graduates, please contact Sue Stout at (217) 268-3190, or any Arcola Alumni Association board member.