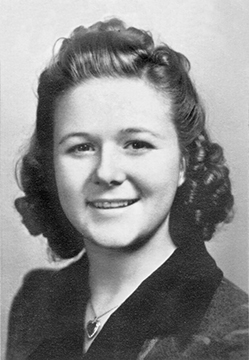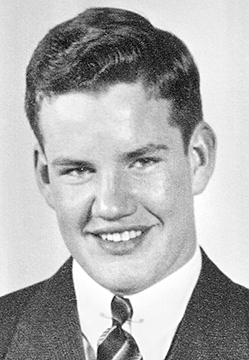 We honor Ruth Campbell Holaday (Class of 1942) and Bob Holaday (Class of 1943). Ruth and Bob met at AHS, married during World War II and now share their memories of some of the most notable events in Arcola High School history.
Ruth Lois Campbell, the fourth of five children of Charles Woodrow Campbell and Ursula Hendrickson Campbell, was born in their family home in Chesterville on February 11, 1925. Her father worked for Pennsylvania Railroad and also did carpentry work. Her mother was a homemaker and seamstress. Ruth attended Chesterville country school, completing all eight grades in seven years. She completed the 5th and 6th grades in the same year.
Ruth entered Arcola Township High School in the fall of 1938, at the age of 13, and soon became an active high school student, participating in GAA four years, as well as three years in Glee Club and Orchestra. During her junior and senior years, she was on the Arco-lite staff and in class plays. Ruth was chosen junior class Homecoming queen attendant and also participated in the minstrel show her junior year. She was further honored with the DAR award as a senior.
During Ruth's junior year, she and sophomore student, Bob Holaday, met at student gatherings on Monday evenings at the Mattoon roller skating rink. The couple began a courtship that has continued for 75 years.
Robert William Holaday was the second child of Robert Homer Holaday and Cora Belle Kanitz Holaday. He was born May 25, 1925, in their family home located one mile south and one half mile west of Arcola. His father was a farmer and livestock trader and his mother was a homemaker. Bob attended grades 1-8 at Hartford School, located one mile south and one mile west of the family home.
Bob entered Arcola Township High School in the fall of 1939. He was involved in Glee Club and FFA all four years, played football his sophomore and junior years, and also participated in the minstrel show his sophomore year. Bob was chosen Student Council representative as a junior and sang with the Senior Chorus.
Ruth and Bob were students during one of the most historical times at Arcola High School. As reported in the 1942 Torch yearbook, the high school was struck by lightning on July 24, 1941, resulting in a fire that burned the top floor and the auditorium. High school classes started as scheduled on September 2nd with no roof on the building. It was necessary for some classes to be held in available West Side Grade School classrooms. Bob reported their study hall was held in the gymnasium and his Glee Club practice took place at the West Side Grade School. The yearbook described how classes were interrupted with the pounding of the workmen and falling debris, but Bob explained the construction became routine for the students, who understood the work had to be done. The Torch stated electric lights were in use for the first time in the school year on November 1, 1941, and the roof was not completed until the following year.
Despite the impactful events following the July 24th fire at Arcola High School, students at AHS encountered even greater changes in December of the same year. Following the December 7th Japanese bombing of Pearl Harbor, Bob and Ruth remember students were called to the auditorium when school resumed. Their principal, Mr. King, rolled a large radio into the auditorium and students listened intently as President Roosevelt spoke of US involvement in World War II. They remember their friends and classmates left school prior to graduation in order to enlist in military service. The Torch reported three of their teachers, Mr. Kelly, Mr. Cousineau and Mr. Level, left for military service during the 1941-1942 school year.
As involvement in World War II increased, there was an anticipated shortage of labor for the spring 1942 farming season. As a result, students, parents and school board members were asked to vote on a proposed 6-day school week that would provide an earlier end to the school year. The proposal passed and school was first held on Saturday beginning January 31, 1942, with students completing the school year on May 6th rather than May 31st. Arcola High School diplomas were awarded to 37 graduates in the recently restored auditorium on Wednesday, May 6, 1942. Ruth's classmates included other students who are familiar to local readers: Dorothy Gardner Dilliner, Helen Harrington, Lloyd Lytle, Helen Alcorn Maxwell, Cleo Conners, Peggy Parker and Imogene Bright Ghere Thompson.
Bob graduated with his class of 42 students on Monday, May 31, 1943. The Class of 1943 included several graduates who are remembered by local readers: Don Bartholomew, Lowell Bergfield, Hobart Milton Butler, George Dilliner, Marjorie Gardner Morris, Bobby Ghere, Russell Ghere, Bertha Mae Hood, Glenna Hopkins McLane, Phyllis Knaus Randell, Robert Lutz, James McLane, Rosemary VanGundy King and Helen Walls Logan. The May 27, 1943 Arcola Record-Herald reported several boys will enter armed forces, while a good many of the girls have plans to go into work in connection with the war.
Following her high school graduation, Ruth worked in the office of Dr. John Phillips, Arcola dentist, until her employer entered the US Navy. She then took a position at The First National Bank of Arcola. Following his graduation, Bob worked on his family's farm until he entered the US Army Air Force on March 24, 1944. He received his basic training at Sheppard Field, Wichita Falls, Texas, and was later stationed in Oklahoma, California and Florida. Bob served as an airplane/engine mechanic, cook and guard.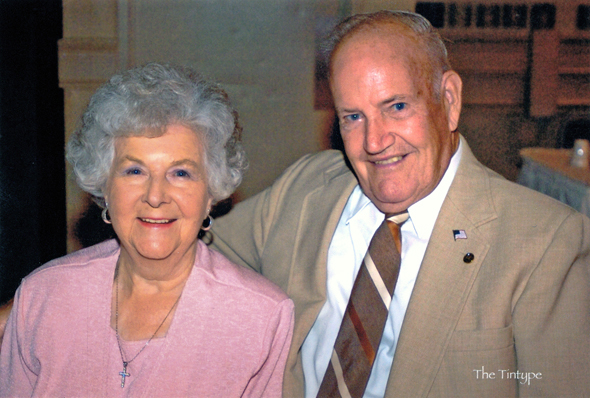 Ruth left her work at the bank to join Bob in San Bernardino, California, where they were married in the Air Force base chapel on November 24, 1944. Ruth then contributed to the war effort as a factory worker. Bob completed his military service and was discharged as a corporal on May 9, 1946. The couple then returned to Arcola, where they lived with Bob's parents on the farm while Bob farmed for Don Baker. The following year, Bob was able to take over the family farming operation when his father retired and his parents moved into Arcola. Bob and Ruth's children, Cheryl, Barbara and Steve, were baby boomers of 1948, 1950 and 1955 respectively. Ruth worked at Douglas County Soil and Water Conservation office for many years and Bob continued to farm through the 1988 crop year. Upon their retirement from farming, Bob and Ruth moved into their home in Arcola in 1989.
The Holadays have been active in the Arcola community for many years. Ruth served as a 4-H leader and longtime member of the Arcola chapter of Eastern Star, serving as Worthy Matron in 1959. Bob served as a board member for Arcola schools and Arcola Grain Cooperative. He was also actively involved with Arcola Lions Club, Arcola Masonic Lodge, Telecare and was a longtime member of Eastern Star, serving as Arcola's Worthy Patron in 1959. The Holadays are among the oldest members of the Arcola United Methodist Church. Bob joined his church more than 80 years ago at the age of 10 in 1935. He has served as trustee, president of United Methodist Men and as an Outreach Committee member. Ruth joined the church when the couple returned to Arcola in 1946. She helped with Bible School and also served as United Methodist Women President for several years. Both Bob and Ruth sang with the Senior Choir for decades.
Arcola High School graduates in the Campbell and Holaday families span a period of 85 years. Ruth and her 4 siblings graduated over a 20-year period: Lenore Campbell O'Laughlin (1927), Woodrow Campbell (1932), Maxine Campbell David (1939), Ruth (1942) and Dorothy Campbell Fortney (1947). Bob's older sister, Juanita Holaday Roberts, graduated in 1929. Bob and Ruth's children followed: Cheryl Holaday Hilgenberg (1966), Barbara Holaday Coffey (1968) and Steve Holaday (1973). Steve Holaday continued the farming operation at the time of his parents' retirement. He and his family moved into the Holaday family farm home and three more Holadays later became Arcola High School graduates: Clinton (2005), Tara (2008) and Matthew (2012).
Arcola High School graduates Ruth and Bob Holaday have served our community well, and at ages 91 and 90, are now residents at Arcola's Carriage Crossing, where they enjoy their time with family and friends. More than 71 years after their marriage, they are now grandparents of 8, with 4 great-grandchildren and another on the way.