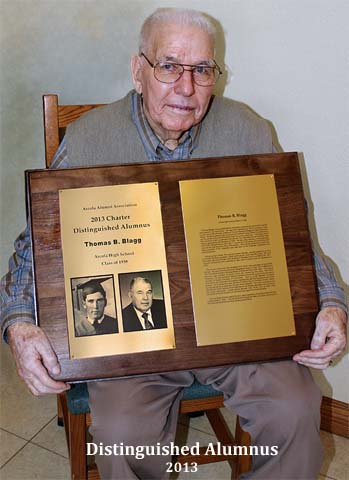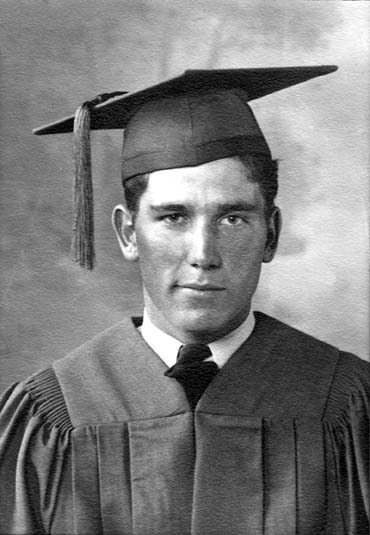 As Arcola Alumni Association continues to recognize our Arcola High School graduates who have reached the age of 90 and beyond, we honor Tom Blagg, who graduated with the AHS Class of 1938.
Thomas B. Blagg was born December 6, 1919, the fourth of seven children of Grover Cleveland Blagg and Sarah Beavers Blagg.
The Arcola Record-Herald's April 21, 1938 report of Arcola High School news, as submitted by AHS students, featured a short article written by Tom titled, "My Life". He explained that when he was very small he moved from his first home south of Charleston to Ashmore, where his father had many horses and he first learned to ride a horse. His family then relocated to Charleston. Tom's wit was evident, even in high school, when he wrote of his move to Charleston saying, "where in a few months I learned to fight as calmly and earnestly as any street urchin."
The Blagg family later moved to a farm south of Hindsboro. In his September 9, 2004 interview for the Broom Corn Festival special edition, Tom reported he was able to cut his own table of broom corn by the age of 10 or 12. He attended a country grade school and then started high school at Hindsboro, where he was soon elected freshman class president. Tom played football and basketball and also participated in poultry judging and 4-H at Hindsboro.
In 1935, Tom's family moved one more time to a farm between Humboldt and Arcola. The Blaggs were now in the Arcola school district and Tom continued his education at Arcola High School. During his sophomore year, his first year at Arcola, Tom was elected class secretary and FFA president. He was also active in stock judging, 4-H, wrestling, football and baseball.
In his junior year, Tom served as FFA editor for the Arco-Lite and was a stage-hand for their class play, while also playing football, basketball and baseball. During the football season his junior year, the September 3, 1936 Record-Herald reported, "Tom and Kenneth Blagg, brothers, suffered bad cuts over their eyes in a practice session Friday when they crashed headon, running at full speed, as they were chasing a punt."
Tom was elected class president his senior year, was Arco-Lite news editor, participated in the class play and again played football and basketball.
While Tom's contributions at Arcola High School are many, he is likely best remembered as a three-year letterman on Coach Kyle McWherter's legendary football teams of the 1930s. Tom played right guard and right tackle as Arcola accumulated 33 straight victories and set the record for the longest winning streak in Illinois high school football history, beginning in the 1933 season and continuing until their mid-October 1937 loss to Villa Grove. Despite their loss to Villa Grove, Arcola went on to claim their fourth consecutive Okaw Valley Conference championship that fall by defeating Tuscola a fifth consecutive time. Tuscola was unable to score on Arcola during Tom's high school football career. Tom's life story, as he reported in the Record-Herald his senior year, stated, "These last three years have been the grandest of my life with my studies and the opportunity of playing three championship football games."
Tom graduated as an honor student with the Arcola High School Class of 1938. His class of 44 students included his brother, Kenneth Blagg, Jack Brandenburg, Mildred Chumbley Alexander, Henry Ernst, Dale Gardner, Donald Ghere, Gracie Gray Burch, Juanita Hilgenberg Dallmier, Mary Jane Harrington Saunders, Joe Honn, Mary Kelly Brown, Robert "Popeye" Pullen, Mardelle Rugh Blagg, Jess Sargent, Albert Sears, Harry Smith and Marjorie Shores Ghere. Tom's younger sister, Jean Blagg Ghere, graduated with the AHS Class of 1944.
Following high school, Tom and his brother, Kenneth, worked together as they sold coal from their old truck. They later rented farm land and grew a broom corn crop for a short time. The brothers continued their work together and built a successful farming operation, which continued for more than fifty years.
Tom and Rose Barnett of Hindsboro, were married in the Hindsboro Christian Church on March 29, 1941. They became landowners and continued to farm east of Arcola until Tom's retirement in 1990.
The Arcola community has benefited from Tom's dedicated service. He was a director of Arcola Cooperative Grain Co. from 1975-1988 and on The First National Bank of Arcola Board of Directors from 1974-1991. Tom was a forty-one year member of the Arcola Lions Club and served as the club's 1974-1975 president. He also served on Citizens' Advisory Council for our schools and was a member of Arcola Chamber of Commerce. Tom is a Life Member of Arcola Foundation and continues his longtime membership with the Douglas County Farm Bureau. He is a sixty-seven year member of Walnut Grove Christian Church, where he served as an elder and Sunday school teacher.
Tom was honored as our 2004 Broom Corn Festival Grand Marshal and received the Arcola Sports Booster Club's 2009 Honorary "A" award for his continued support of Arcola athletics. Arcola Alumni Association honored Tom as a charter Arcola Distinguished Alumnus in 2013. As he acknowledged his honor during the alumni banquet, Tom proudly displayed the leather football helmet he had worn many decades earlier while playing for the Purple Riders.
Tom and Rose shared nearly fifty-four years together on their farm before Rose's death in 1995. They are parents of daughters Mary Ragan (AHS Class of 1960) and Jane Munson (1961). A third generation of their family, Craig Munson and Deanna Munson Little, also graduated Arcola High School in 1984 and 1986 respectively. Recent graduates Zachary Munson (2013) and Jacob Munson (2014) were the fourth generation of Tom and Rose's family to earn diplomas at Arcola High School.
Tom's dedication to Arcola began 80 years ago at Arcola High School. He has continued to serve the Arcola community for decades and is now, at age 95, a resident at Arcola's Carriage Crossing. We are fortunate to have Tom and all his family as Arcola High School graduates.