HEADLINES
2019 Distinguished Alumni
FL Snowbirds Reunion
Recent Graduating Class Photos:
Class of 2016
Class of 2017
Class of 2018
2018 Distinguished Alumni Honorees
Joe Hopkins - Oldest Living Alumni
Smiley Burnette's Mandolin
From The Archives
Various historical photographs of Arcola High School
The Alumni Association wishes to acknowledge the support and assistance provided by the Arcola Record-Herald.

Contact the Arcola Record-Herald via Email or at (217) 268-4950 to subscribe or for all your printing needs.

BE NOTIFIED OF PAGE UPDATES



powered by ChangeDetection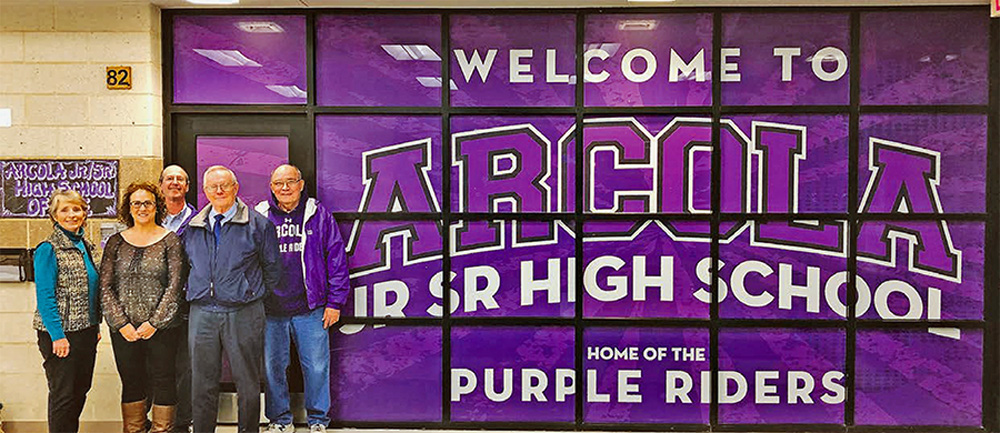 The Arcola Alumni Association recently provided a one-way vision window graphic to welcome visitors inside the south entrance at Arcola Junior-senior high school. The vinyl covering wraps the office windows and doors, but allows staff and students inside to view outside the window mural. AHS Distinguished Alumni banquet sponsors and purchasers of cola Wars special event license plates provided funds for the window graphic. Alumni Association board members pictured with the mural, from left, are Sue Stout, Kendall Moore, John Fishel, Dr. Robert Arrol and Larry Bushu.
The mission of the Arcola Alumni Association is to:

Create a database of Arcola alumni with current contact information
Establish and maintain an alumni hall of fame
Recognize distinguished alumni and faculty
Identify and support a project for the school
Host annual alumni reunion at Homecoming
Encourage monetary gifts to the school
Membership in the Arcola Alumni Association is open to:

Graduates of Arcola High School
Anyone who attended Arcola High School
Friends of Arcola High School
There are no membership dues. We rely on the generosity of alumni to underwrite the various projects.
Relive the memories by singing "On Arcola" (with apologies to the University of Wisconsin-Madison).