HEADLINES
Joe Hopkins - Oldest Living Alumni
2018 Distinguished Alumni Banquet
Kaskaskia Country Club
October 6, 2018

Class of 1968 Reunion
July 28, 2018
UPDATED INFORMATION
Florida Snowbirds - Pictures
Feb. 22, 2018
From The Archives
Various historical photographs of Arcola High School
The Alumni Association wishes to acknowledge the support and assistance provided by the Arcola Record-Herald.

Contact the Arcola Record-Herald via Email or at (217) 268-4950 to subscribe or for all your printing needs.

BE NOTIFIED OF PAGE UPDATES



powered by ChangeDetection
Congratulations - Jack Fishel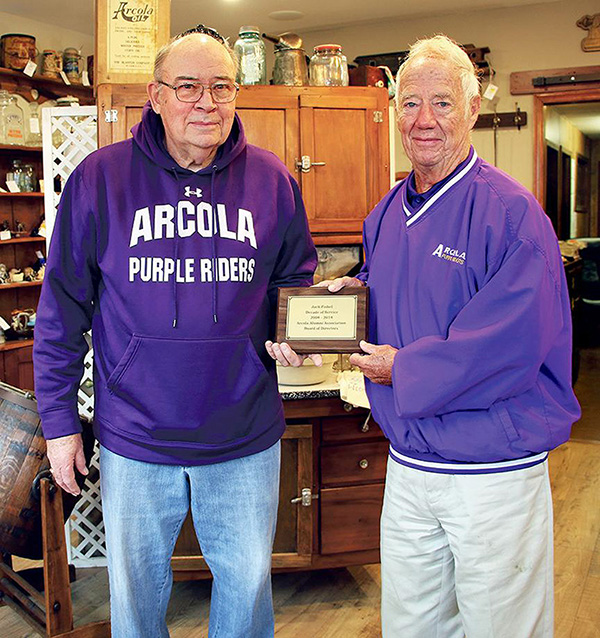 In recognition for his service as a director of the Arcola Alumni Association since its creation in 2008,
Larry Bushu (left) recently presented Jack Fishel a plaque upon his retirement from the Board of Directors.
2017 Distinguished Alumni Sponsors
The Arcola Alumni Association thanks the following sponsors for their generous support:
Bob (1957) & Judy Curry
Ron & Nancie Mertz
Monahan Partners, Inc.
Dr. Robert (1957) & Priscilla Arrol
Corky (1962) & Billie Jean (1963) Clark
Denny (1956) & Pat (1957) Johnson
Jack (1956) & Lynda Fishel
Don & Carol Portugal
Larry (1955) & Carol Bushu
Jerry & Sue Stout
Joseph Monahan (1960) Family
Jim Binford
Doug & Georgia Mullikin (1958)
Andy (1962) & Gail Walton
Dean and Shirley Sanders
Terry Sanders
Arcola Fitness Center
In memory of John D.Kibler (1932) & Jeanette Cook Kibler Snyder (1932)
Dr. Robert & Natalie Smith (1955)
Michael Clark (1972)
Mike (1964) & Cheryl (1966) Hilgenberg
The Lead Pig, Antiques on Main Street in Arcola
Larry (1971) & Glenda King (1972) Chancellor
Linda Stump Beazley (1960)
Jim (1963) & Anne Monahan
Doris Chaney